Welcome to

Nooski Trap Systems

Re-inventing the mouse trap is something the NOOSKI team are very proud of and truly believe their patented concept will one day be the globally preferred choice in rodent control.

No more poison, no more glue boards, no more snap traps. The NOOSKI revolutionary ring trap is an innovative leap in design, with significant benefits over other devices.

Attracted by lure, the rodent enters the trap thus releasing a powerful rubber latex ring onto the neck/chest area. The rodent is expelled from the trap being crushed by the ring and dies instantly next to the trap without suffering.

Rodents become shy of used contaminated snap traps, this does not occur with the NOOSKI system as the rodent dies unattached to the trap.

No blood, no mess, no maimed animal and no contaminated trap to clean. The NOOSKI reusable rodent trap is easy and safer to use and will give a lifetime of rodent free living.

NOOSKI rodent traps are supplied with one dozen rings to kill 12 rodents, extra rings sold separately.

NOOSKI TRAPS work when others don't.
Mouse Trap
Rat Trap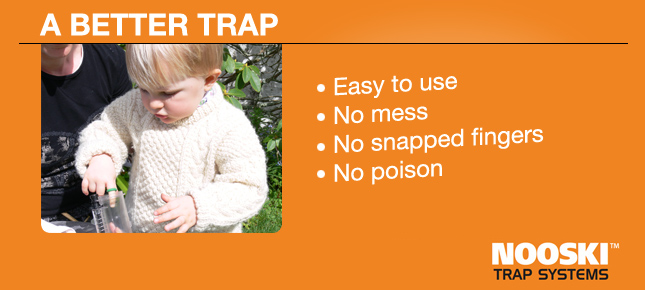 Copyright and Patents
NOOSKI® is a registered trademark of Nooski Ltd, Rotorua, New Zealand.
Nooski Ltd owns the exclusive rights to the following patents:
US Patent No.7,918,050 and No.9,545,095
EU Patent No. 1691602
Australian Patent No. 2004294874
New Zealand Patent No. 529970